By Lannie Brockstein
March 15th, 2023
My Freedom Convoy Song is a sonnet of 14 lines, which I composed in iambic pentameter.
Part of the etymological root of sonnet is sonet, which translates into English as little song. Aren't all songs, even those that are the littlest amongst them, supposed to be sung?

This link leads to a literary video that I made. It features an audio recording of myself singing the lyrics of my Freedom Convoy Song.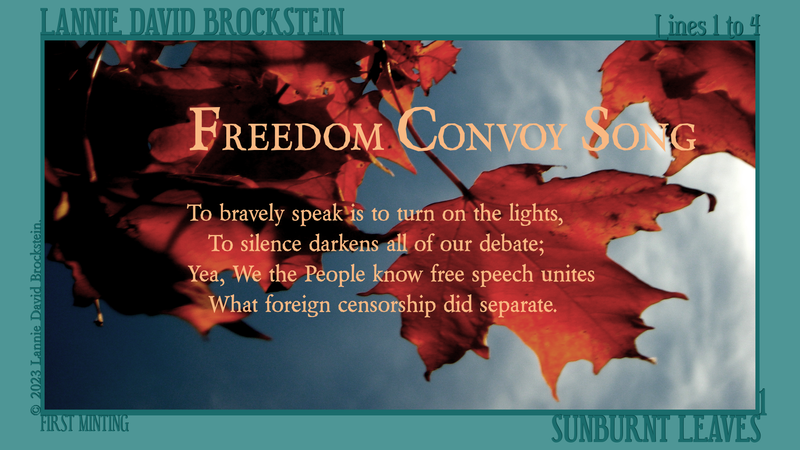 To bravely speak is to turn on the lights,
To silence darkens all of our debate;
Yea, We the People know free speech unites
What foreign censorship did separate.
The former, it is our G-d given right
That every patriotic soul respects,
Whereas the latter was spat from the spite
Of swamp creatures who have a god-complex.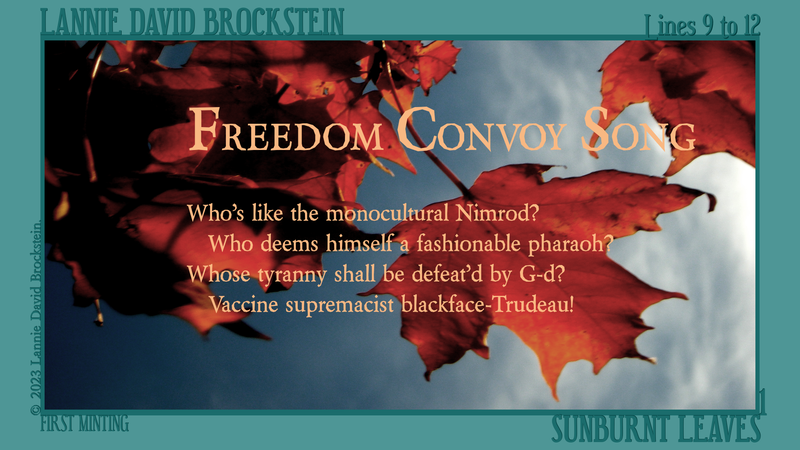 Who's like the monocultural Nimrod?
Who deems himself a fashionable pharaoh?
Whose tyranny shall be defeat'd by G-d?
Vaccine supremacist blackface-Trudeau!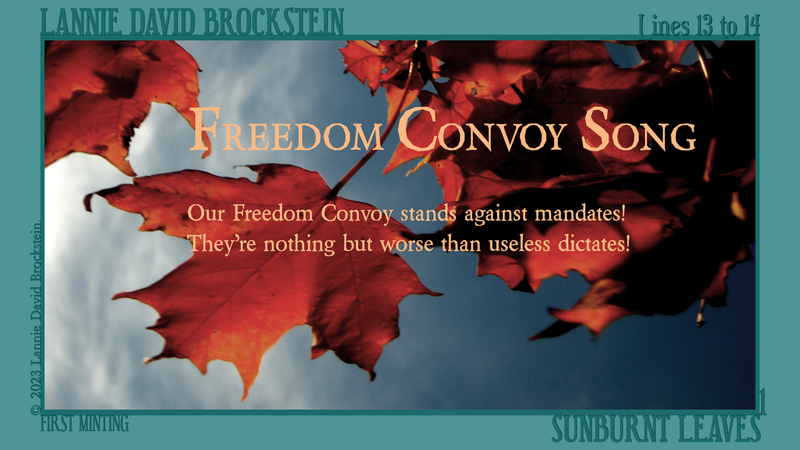 Our Freedom Convoy stands against mandates!
They're nothing but worse than useless dictates!
---
This link leads to a playlist of unedited videos by "Ottawalks", whose use of livestreaming did beautifully document the Freedom Convoy protest from January 28th, 2022 to February 20th, 2022 at Parliament Hill in Ottawa, Canada.
This link leads to another playlist of unedited livestreamed videos of the Freedom Convoy protest in Ottawa by "UOttawaScotty".
This link leads to "Travel Fun 69's" playlist of unedited livestreamed Freedom Convoy protest videos in Ottawa.
Their unedited livestreamed videos are evidence that shows what was really going on there, despite the mainstream media and the government's extremely false, disingenuous, and demented narrative of that protest having been an insurrection by domestic terrorists that necessitated the invocation of the Emergencies Act.

"SUNBURNT LEAVES: Freedom Convoy Song by Lannie David Brockstein" is copyright © 2023 Lannie Brockstein. All Rights Reserved. This article has been archived at Scorum World and may not be reprinted or copied without the express written permission of Mr. Brockstein—please share its Scorum World link instead.