Good news for EXMO traders! Today we are launching a Roobee contest, where you can win both Apple gadgets and ROOBEE tokens. We've also added a new ROOBEE/USDT pair that's already available for trading on our exchange!

As announced earlier, EXMO is launching a guaranteed prize contest in partnership with the Roobee team. The contest will be held from 25th October 2021, 11:00 (UTC) to 4th November 2021, 23:59 (UTC).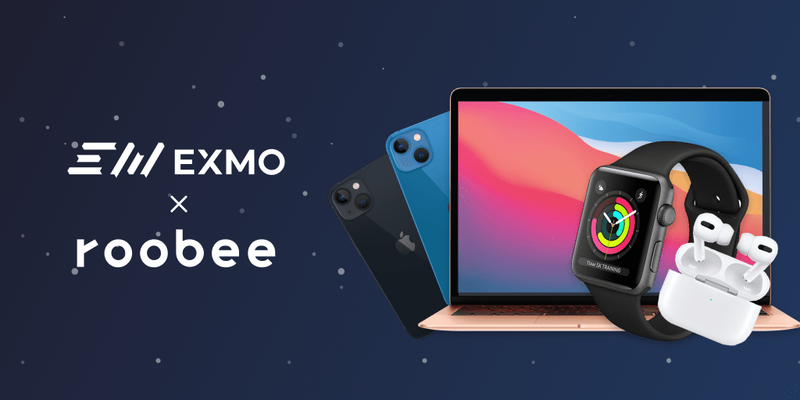 HOW TO PARTICIPATE
The rules are as easy as pie — simply buy and hold over 5,000 ROOBEE tokens during the contest period.
A prize pool of 300,000 ROOBEE will be equally distributed among all participants who have fulfilled the conditions of the contest.
We have also prepared special gifts for the most active participants. Buy as many tokens as possible and become one of TOP traders in terms of token balance! Among these participants, we will select winners, who will receive Apple gadgets.
TOP 10: MacBook Air M1 (or $1,200 in USDT)
TOP 50: iPhone 13 (or $900 in USDT)
TOP 100: Apple Watch (or $500 in USDT)
TOP 200: Airpods Pro (or $250 in USDT)
Participate
CONTEST CONDITIONS
Deposited tokens are considered. You need to buy ROOBEE on EXMO.
Tokens bought before the start of the contest are considered.
If some tokens have been sold before the end of the contest, we will consider only those that remain on your balance by the end of the contest.
WHEN WILL RESULTS BE ANNOUNCED
Every day we will keep you updated on the threshold of entry into each of our TOP categories through our social media channels. So you will be able to track the course of the contest and buy the amount of coins needed to win prizes!
The results of the contest will be published on Friday, 5th November 2021. We will select winners among our TOPs via the Google random number generator. The names of the lucky ones will be announced on the Roobee YouTube channel on 5th November 2021. We will soon share the time and link.
ROOBEE TO TRADE WITH USDT
The good news doesn't end there! We have added a new trading pair to our listing – now you can buy ROOBEE tokens in the following two pairs:
ABOUT ROOBEE
Roobee.io is an investment platform built on blockchain technology. The platform allows buying ETF and DeFi products using crypto funds and bank cards. Token holders can also take part in projects previously available only to a closed circle of investors, for example, Pre-IPO.
Diversify your portfolio with a promising coin and trade to win a brand-new MacBook or iPhone in two weeks!
---