This is the name of the Harley Davidson model, which was driven by the T-800 terminator in the second part of the film - Harley Davidson "Fat boy''.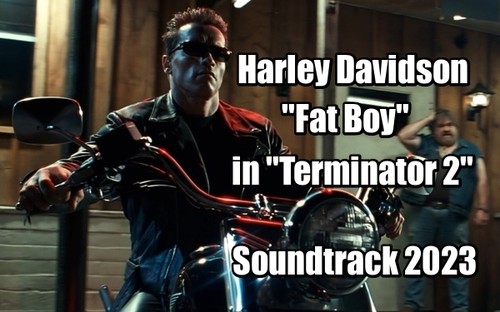 The Harley Davidson "Fat Boy" is a classic American motorcycle that has been around for decades (since 1990). It's a heavyweight cruiser that's built for long rides and offers a comfortable, smooth ride. The bike's iconic design is unmistakable, with its large front wheel, wide handlebars, and fat tires.
One of the standout features of the Fat Boy is its powerful engine. The bike is equipped with a Milwaukee-Eight 114 engine that delivers impressive torque and acceleration. Whether you're cruising down the highway or navigating city streets, the Fat Boy has plenty of power to get you where you need to go.
Another notable feature of the Fat Boy is its handling. Despite its size and weight, the bike is surprisingly agile and easy to maneuver. The wide handlebars provide excellent control, and the low center of gravity makes it easy to balance at low speeds.

The Fat Boy also offers a comfortable ride, thanks to its plush seat and suspension system. The bike absorbs bumps and vibrations well, making it ideal for long rides. The seat is also adjustable, allowing riders to find the perfect position for their body type.
Overall, the Harley Davidson Fat Boy is a timeless classic that delivers on both style and performance. It's a great choice for riders who want a powerful, comfortable cruiser that's built to last. Whether you're a seasoned rider or just starting out, the Fat Boy is sure to impress.
For fans of the Terminator franchise, this is an iconic motorcycle.

---