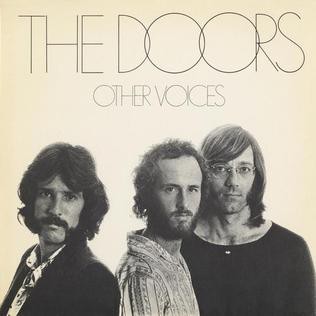 By Lannie Brockstein.

October 6th, 2021
MORE THAN A DECADE AGO, I discovered that The Doors had released two albums after the death of Jim Morrison, titled "Inner Voices" in 1971 and "Full Circle" in 1973. They mostly feature Ray Manzarek on lead vocals, with Robby Krieger as the singer in a few of those songs, too.
"In the Eye of the Sun" on "Other Voices" sounds very much to me as though it is a Morrison song, but some of its lyrics are...goofy, and definitely not what any fans of The Doors would recognize as Morrisonesque.
In missing the music of Morrison with The Doors, I composed new lyrics for the first part of that song (including my having re-written its title as "In the Eye of the Storm", along with my having recorded a demo of myself singing them. I layered my vocal tracks over The Doors' studio album release of that song in order to occult Ray Manzarek's at times goofy vocals and lyrics, so that it seems to be what I imagine "In the Eye of the Sun" might have sounded like, had Jim Morrison not passed away.
Ray Manzarek and Robby Krieger have each released many solo albums, along with John Densmore and Krieger having formed "The Butts Band" whereby they released two albums. If any of your favourite bands are no longer releasing new albums, you may be surprised to know that some of their individual band members might have released solo albums or are in new bands whose music you may enjoy listening to. That information can probably be found at Wikipedia, and it is possible their solo albums are posted online.