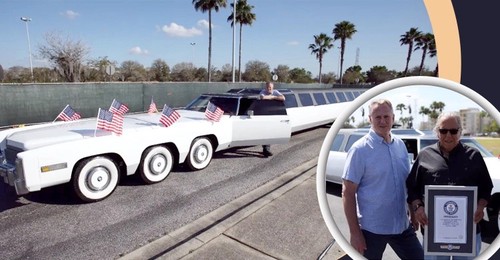 Not just for travel, cars are a luxury for many. Never a toy. There are many types of cars in the world. Any bullet proof. If you look at the inside of some cars, you will not understand whether it is a house or a car.
However, this time the name of the longest car in the Guinness Book. Inside it is a swimming pool with a rooftop helipad. Surely you will be surprised, be boiki! Recently, the American Dream has been included in the list of the longest cars in the world.
The 100-foot-long car has enough space to hold a helipad in addition to a swimming pool. This 26-wheel drive car also has its own helipad.
Meanwhile, The American Dream is included in the Guinness World Records. This car has broken its own old record. On March 1, 2022, American Dream set a new record. The record for the largest car in the world was previously held by the American Dream in 1986.
American Dream was created in 1986 by car customizer J. O'Herberg. It was 80 feet long when Jay, who lives in California, built it. Now the length of the car has been increased to 100 feet 1.50 inches. The car has a total of 28 wheels. A total of 75 people can sit in the car at once.
You must have seen this car in many Hollywood movies. This car is now in a warehouse in New Jersey. Over time there have been problems with the maintenance of this vehicle.
Michael Manning, owner of a museum in New York, decided to restore it. Michael said the car was in a state of disrepair when he saw it in New Jersey. Its windows were broken, there was no air in the tires. Yet he fell in love with this car. He decided to recover the car.
According to Michael, a lot of money has been spent since this car was recovered. He sold the car on eBay in need of money as his museum lease expired. Michael Dezer, then associated with the tourism industry, bought the car. He added many new features to the car.
The tires of the car were changed. The helipad was rebuilt and the pool was repaired. Now this car has become more interesting to look at.